Director's Message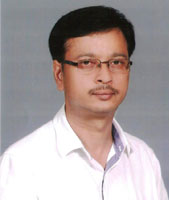 Dear Students,
The sole motto of Narayan Industrial Training Center is to impart proper training with the support of our committed faculties so as to develop skill and expertise among the students of ordinary merit. We offer suitable academic environment and state of the art workshop for the students in the trades like, COPA, Fashion Technology and IT & ESM so that they may learn about the trades and develop their skill. We offer rigorous practical training as per the norms of National Council of Vocational Training (NCVT) by the qualified and trained instructors. Strong emphasis is been given on practical issues to make the students confident enough to meet the incremental expectations of the companies. In addition to the regular classes, the students are also encouraged to organize skill development programs and workshops by the experienced professionals chosen from the industries so to improve and sharpen their knowledge. Following the completion of the course of studies, the companies are invited at our campus for the final placement of our students. We are committed to assure the best level of placement assistance to our bonafide students and students are also trained to meet the incremental challenges in the industries. NITC is an institution that aims at the complete development of the student and our staff are hand-picked and trained to ensure that the students are given every possible support in all their endeavours, academic or otherwise. It is a multidisciplinary institution and this also ensures that the students have ready access to a wide range of academic material.
Sports and other co-curricular activities are encouraged and the students are given every form of support to develop their talents in all fields. Our brand of education does not have narrow horizons, we believe in exposure. Our students are encouraged to widen their knowledge base and study beyond the confines of the syllabus. This is evidenced by the extensive library facilities in the college, both physical and virtual. In this age of technology, knowledge is just a click away and we ensure that every student of the college has only the best of technology at his/her disposal.
The comfort and health of the student community, both mental and physical, are given utmost importance. A student of NITC will lack nothing in terms of support from the management and staff. We aim to lend a gentle guiding hand so that our students recognize their inner potential and grow of their own accord into stalwarts of tomorrow's society. An alumni of NITC is sure to be knowledgeable, confident and fully equipped to deal with the real world and excel.
Director
XXX